Solgar is al vele jaren een vast onderdeel in ons assortiment!
Wij hebben ruim 8 meter aan verschillende producten van Solgar voorradig staan in onze winkel.
En door een uitstekende voorradigheid bij onze groothandel, kunnen ook bij ons niet voorradige producten vaak met enkele uren alsnog worden afgehaald.
In 1947 begint Solgar Vitamins in Manhattan, New York en ontwikkelen ze als eerste product een multivitamine in poedervorm.
Nu in 2020 heeft Solgar inmiddels ruim 300 hoogwaardige voedingssupplementen in het assortiment die in meer dan 60 landen verkrijgbaar zijn.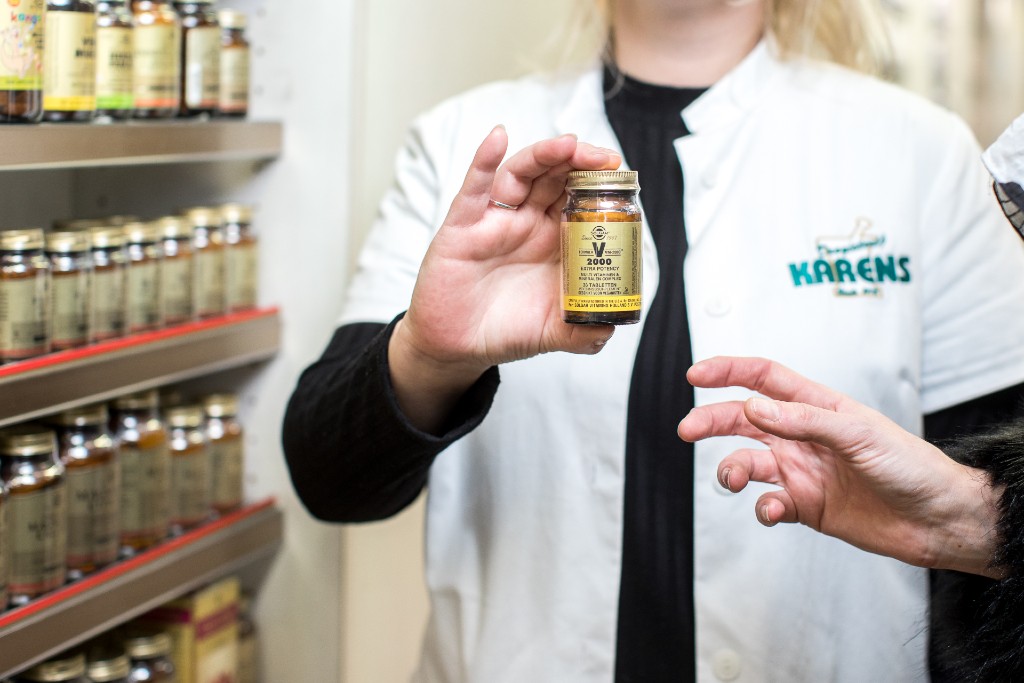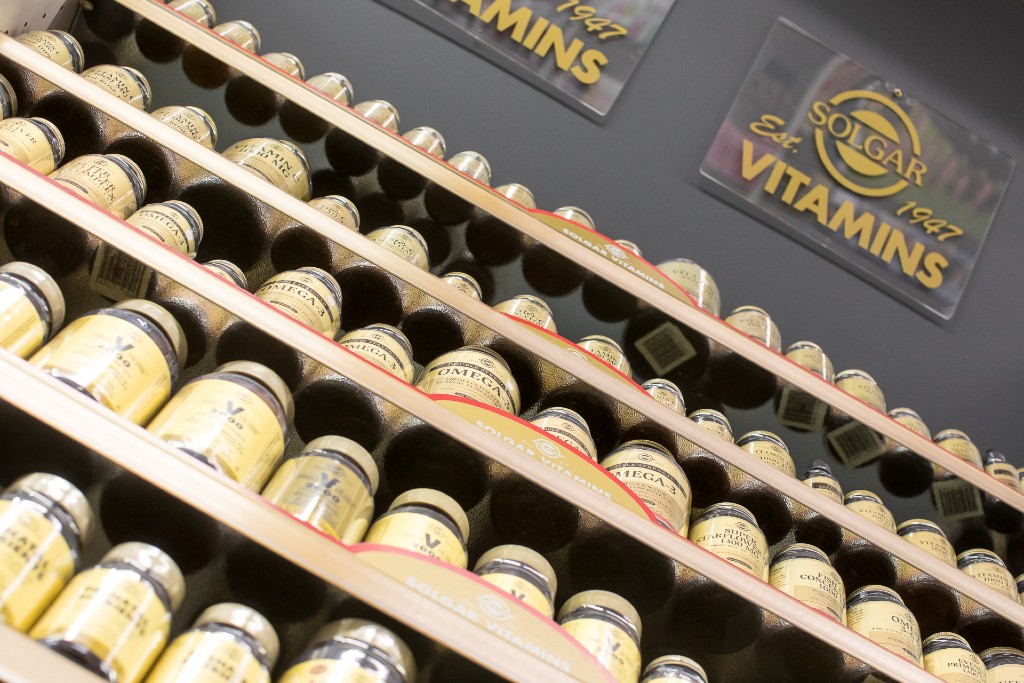 Wat is er nu zo onderscheidend aan Solgar?
✓ Vrijwel alle producten zijn vrij van suiker, zuivel, zout, zetmeel, gist, tarwe, gluten, conserveringsmiddelen en synthetische kleur- en smaakstoffen.
✓ Op de etiketten kunt u lezen of het product geschikt is voor vegetariërs, veganisten, vrij is van genetisch gemanipuleerde soja, kosher of halal is.
✓ Verpakt in donker glas, waardoor oxidatie wordt tegengegaan – en minstens zo belangrijk – glas is recyclebaar en belast het milieu niet onnodig
Solgar brengt meerdere keren per jaar het informatie blad Vitamin Times uit. Het ligt altijd voor u klaar in onze winkel! Vraag ernaar bij uw bezoek!
Of mail ons, dan leggen wij er één voor u klaar!
Onderstaande producten behoren tot het assortiment van Solgar:
Solgar Multi-Vitaminen voor Volwassenen:
Earth Source
Man Multiple
Omnium
Prenatal Nutrients
Vegan Multiple
VM-75 Formula
VM-2000 Formula
VM-Prime for Women
VM-Prime voor Senioren
Woman Multiple
Solgar Multivitaminen voor Kinderen:
Kangavites Bouncing Berry
Kangavites Tropical Punch
Solgar Vitamine A en D:
Cod Liver Oil
Liquid Vitamine D3
Super Cod Liver Oil Complex
Vitamine A 5000 IU
Vitamine D3 400 IU
Vitamine D3 600 IU
Vitamine D3 1000 IU kauwtabletten
Vitamine D3 1000 IU capsules
Vitamine D3 1000 IU tabletten
Vitamine D3 4000 IU capsules
Solgar Vitamine B:
Complexen
Vitamine B Complex
Vitamine B Complex met Vitamine C
Enkelvoudig
Biotine 300 mcg
Biotine 1000 mcg
Biotine 5000 mcg
Choline 350 mg
Choline / Inositol 250 / 250 mg
Folaat (Metafolin) 400 mcg
Folaat (Metafolin) 1000 mcg
Folacin 400 mcg
Folacin 800 mcg
Inositol 500 mg
Methylcobalamine 1000 mcg
Vitamine B1 Thiamine 100 mg
Vitamine B3 Niacine 100 mg
Vitamine B3 No Flush Niacine 500 mg
Vitamine B5 Pantothenic Acid 550 mg
Vitamine B2 Riboflavine 100 mg
Vitamine B3 Niacine 100 mg
Vitamine B3 No Flush Niacine 500 mg
Vitamine B12 100 mcg tabletten
Vitamine B12 500 mcg capsules
Vitamine B12 1000 mcg nuggets
Liquid B12
Solgar Vitamine C:
Ester-C Plus 500 mg tabletten
Ester-C Plus 1000 mg capsules
Ester-C Plus Vitamine C 1000 mg Effervescent Drink sachets
Quercetine Complex
Rutine 500 mg
Vitamine C 500 mg capsules
Vitamine C 500 mg met Rose Hips tabletten
Vitamine C 1000 mg capsules
Vitamine C 1000 mg met Rose Hips tabletten
Vitamine C 1500 mg met Rose Hips tabletten
Vitamine C Crystals
Solgar Vitamine E:
Dry Vitamine E 134 mg / 200 IU
Dry Vitamine E 268 mg / 400 IU
Liquid Vitamine E Complex
Vitamine E 134 mg / 200 IU
Vitamine E 134 mg / 200 IU Complex
Vitamine E 268 mg / 400 IU
Vitamine E 268 mg / 400 IU Vegan
Vitamine E 671 mg / 1000 IU
Vitamine E met Selenium
Solgar Vitamine K:
Vitamine K1 100 mcg
Vitamine K2 100 mcg
Solgar Aminozuren:
Acetyl-L-Carnitine 250 mg
Amino 75
BCAA Plus (Branched Chain Amino Acids)
DLPA (DL-Phenylalanine) 500 mg
L-Arginine 500 mg
L-Arginine / L-Ornithine 500 mg / 250 mg
L-Carnitine 500 mg
L-Cysteine 500 mg
L-Glutamine 500 mg
L-Glutathione Reduced 50 mg
Maximised L-Glutathone Reduced 250 mg
L-Lysine 500 mg
L-Lysine 1000 mg
L-Methionine 500 mg
L-Ornithine 500 mg
L-Phenylalanine 500 mg
L-Proline 500 mg
L-Theanine 150 mg
L-Tyrosine 500 mg
NAC (N-Acetyl Cysteine)
Neuro-Nutrients
Taurine 500 mg
Solgar Anti-Oxidanten:
Advanced Antioxidant Formula
Alpha Lipoic Acid 60 mg
Alpha Lipoic Acid 120 mg
Alpha Lipoic Acid 200 mg
Astaxanthine 5 mg
Bilberry Ginkgo Eyebright Complex
Cherry Turmeric Complex
Co-Enzym Q10 30 mg capsules
Co-Enzym Q10 30 mg softgels
Co-Enzym Q10 60 mg
Co-Enzym Q10 120 mg
Grape Seed Extract 100 mg
Nutri-Nano CoQ-10
Pycnogenol 30 mg
Resveratrol
Ubiquinol 100 mg
Vision Guard Plus
Solgar Caroteen:
Advanced Carotenoid Complex
Beta-Caroteen 7 mg
Luteine Lycopeen Caroteen Complex
Solgar Eiwitten:
Whey to Go Whey Protein Vanilla
Solgar Gold Specifics:
Cardiovascular Support
Glucose Factors
Prostate Support
Solgar Kruiden Complexen:
Balanced Rhodiola Complex
Bilberry Horse Chestnut Complex
Herbal Female Complex
Milk Thistle Dandelion
Thermogenic Complex
Solgar Kruiden Full Potency:
Aloe Vera
Astragalus Root
Butcher's Broom (Muizedoorn)
Cat's Claw (Katteklauw)
Cayenne (Spaanse Peper)
Chlorella
Cinnamon (Kaneelbast)
Cran Flora
Dandelion Root (Paardebloem)
Devil's Claw (Duivelsklauw)
Dong Quai
Echinacea
Echinacea / Cat's Claw Complex
Fenugreek (Fenegriek)
Ginger Root
Ginkgo 60 mg
Hawthorne Berry (Meidoornbes)
Korean Ginseng
Milk Thistle (Mariadistel)
Natural Cranberry met Vitamine C
Saw Palmetto Berries (Zaagpalm bes)
Saw Palmetto en Lycopeen Complex
Scuttelariae
Siberian Ginseng 520 mg
Uva Ursi & Juniper Formula
Valerian Root
Vegetal Silica
Wilde Oregano Olie
Solgar Kruiden Gestandaardiseerd:
Artichoke Leaf Extract (Artisjok)
Ashwagandha Root Extract
Astragalus Root Extract
Boswellia Berry Extract with Blueberry (Bosbes)
Cat's Claw Inner Bark Extract (Katteklauw)
Deglycyrrhised Licorice Root Extract (Zoethoutwortel)
Echinacea Extract
Elderberry Extract (Vlierbes)
Full Spectrum Curcumine
Hawthorn Extract (Meidoornbes)
Horse Chestnut Seed Extract (Paardekastanje)
Korean Ginseng Root Extract
Gotu Kola Aerial Extract (Aziatische waternavel)
Milk Thistle Herb Extract (Mariadistel)
Olive Leaf Extract (Olijfblad)
Red Clover Flower and Leaf Extract (Rode Klaver)
Rhodiola Root Extract
Saw Palmetto Berry Extract (Zaagpalm)
Siberian Ginseng Root Extract
Turmeric Root Extract (Curcuma)
Solgar Lecithine:
Soya Lecithine 1360 mg
Solgar Mineralen:
Chelated Solamins Multimineral
Boron (Borium) 3 mg
Calcium Citraat met Vitamine D3
Calcium Magnesium Citraat
Calcium Magnesium met Boron
Calcium Magnesium plus Zink
Chromium Picolinaat 100 mcg
Chromium Picolinaat 200 mcg
Gentle Iron 20 mg (IJzer)
North Atlantic Kelp (Jodium)
Chelated Copper (Koper)
Chelated Manganese (Mangaan)
Potassium (Kalium)
Chelated Magnesium
Magnesium Calcium 2:1
Magnesium Citraat
Magnesium met Vitamine B6
Selenium 100 mcg
Selenium 200 mcg
Oceanic Silica
Chelated Zinc (Zink)
Flavo-Zinc Lozenges (Zink zuigtabletten)
Zink 50 mg
Zink Citrate 30 mg
Zink Picolinate 22 mg
Ultimate Bone Support
Solgar Speciale supplementen:
Advanced Immune Complex
Beta 1,3 Glucans
Brain Works
Brewers Yeast met Vitamine B12 (Biergist)
Collageen Hyaluronzuur
Garlic Oil
Garlic Powder 500 mg
Glucosamine Chondroitine MSM
Glucosamine Hydrochloride 1000 mg
Glucosamine Hyaluronzuur Chondroitin MSM
Glucosamine MSM Complex
Glucosamine Sulfaat 1000 mg
MSM 1000 mg tabletten
MSM Poeder
MenoPrime
No.7
Reishi Shiitake Maitake Mushroom Extract
Skin, Nails and Hair Formula
Spirulina 750 mg
Super Concentrated Isoflavones
Ultimate Calm
Ultimate Calm Night
Solgar Spijsvertering:
Advanced 40+ Acidophilus
Advanced Acidophilus Plus
Advanced Multi-Billion Dophilus
Betaine Hydrochloride met Pepsine
Bromelaine 300 mg
Comfort Zone Digestive Complex
Digestive Enzymes
Hydroxycitraat
Lactase 3500
Ultibio
Ultibio Plus
Vegan Digestive Enzymes
Solgar Vetzuren:
Evening Primrose Oil 500 mg (Teunisbloem)
Evening Primrose Oil 1300 mg (Teunisbloem)
Fish Oil Concentrate 1000 mg
Flaxseed Oil 1250 mg (Lijnzaad)
Omega 3-6-9
Omega-3 Double Strength
Omega-3 Triple Strength
One-a-Day EPA / GLA
One-a-Day GLA
Super Starflow Oil 1300 mg (Borage)
Solgar Vezels:
Multiple Fibre Formula
Psyllium Husks Fibre 500 mg (Vlozaadvezels)